The few who are raking it in at the moment may be laughing all the way to the bank, but most of us aren't finding the cost of living increases funny in any way. Everything costs money these days, and it's getting on my nerves.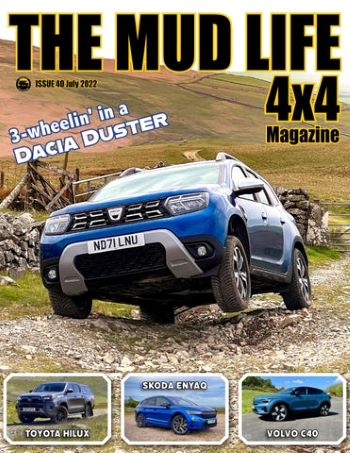 Publication Information
Cover Price: Free
Format: Digital, 109 pages
Frequency: Monthly
Subject: 4×4, Off-Roading, Green-Laning
Publisher: The Mud Life
News, Reviews & Adventure
The Mud Life 4×4 Magazine Issue 40 July 2022
Turner's Torque
Money, Money, Money, must be funny in a rich man's world
The few who are raking it in at the moment may be laughing all the way to the bank, but most of us aren't finding the cost of living increases funny in any way. Everything costs money these days, and it's getting on my nerves.
With money being stretched left, right and centre it's no surprise that a lot of us are having to cut back. Whilst some are struggling to simply put food on the table, others are cancelling TV subscriptions, magazines, meals out, or other 'luxuries' such as that favourite bottle of wine, or nightly beer.
It might be my imagination, but have councils and other agencies begun finding new ways to extract even more money from us recently?
An expense that I find irritating is parking. There are some car parks in major towns and cities that charge more per hour than the minimum wage!
For decades I've been visiting Black Rock Sands in North Wales. I had always simply rocked up and parked on the beach all day, for free. The last couple of times I've been there I was charged £5 for the priviledge.
In Bolton there were always a few places were I could park up for half an hour or so whilst I spent money in a few of the local shops. Now the council have installed pay machines and cameras pretty much everywhere, the knock on effect being that no one just nips into town to buy a couple of bits and wants to pay extra to do so.
This means less shoppers, which means more businesses struggling, and the eventual result being a town of half empty shops.
Welcome to Bolton!
When it was suggested recently that visitors may be charged to park at Rivington Reservoir, the main place to park when visiting the local landmarks Rivington Pike and Lord Lever's Chinese Gardens, there was uproar.
The powers that be, United Utilites, figured that, because thousands of families visit the Pike every year for walks, mountain biking and general sightseeing, they could make a lot of money from drivers.
I get it, paths require maintenance and rebuilding (though these aren't part of United Utilites' remit), and litter needs picking, and it all costs money, everything is on the rise, and some organisations are genuinely struggling with their budgets, but c'mon, we have to draw the line somewhere, and a water company, that declared an operating profit of £610 million in March '22, extorting money for using a countryside car park is where the people of Bolton are drawing it!
I've been so used to paying for things recently that last month I was fortunate enough to take both the Jeep Compass Trailhawk and Dacia Duster along some of the best green lanes that the Lake District has to offer, and it sounds funny now, but I honestly felt like I was cheating someone – like taking your own Minstrels into the cinema!
Of course it isn't free, we pay for fuel, maintenance, tax and insurance, but you know what I mean.
The older I get the more I appreciate having the freedom to be able do the things I want to, but some of the things we take for granted are slowly being eradicated.
I mentioned a while back about wild camping, or just pulling up by the side of the road and sleeping for the night. In a lot of places this is frowned upon, or illegal. I can understand why, to a point. Some folk are quite conscious-free when it comes to leaving a mess, locals then moan and the council has to do something about it – banning us is cheaper than installing bins and so on.
I've just realised that this has turned into a proper 'old bloke' rant, I didn't mean to – sorry! I guess what I want to say is, let's enjoy the free stuff whilst we still can, and more importantly, look after it so the powers don't have a need to shut them down, like they have many green lanes over the years.
Next month I'll do my best to be cheery!
Damian, Editor-in-Chief
The Mud Life is all about 4x4s, and enjoying the great British outdoors.

Damian and Karen Lee Turner (A.K.A. The Muddy Madam)
What's in this Issue
TURNER'S TORQUE 4-5
NEWS 6-17
ŠKODA ENYAQ IV80 SPORTLINE 18-26
LANING LIFE 28-34
OUR GARAGE – A Fault and Battery 36-37
DACIA DUSTER PRESTIGE 4×4 38-47
OUR GARAGE – Dirty Rotten Sc… 48-49
GOODS & GEAR 51-53
FLASH DRIVE – Maxda MX-5 54-55
FLASH DRIVE – Volvo C40 Recharge 56-57
CAMPING LIFE 60-62
YouTube PAGE OF THE MONTH 64-65
MOOCH – Exploring with a Compass Pt.2 66-74
TOYOTA HILUX INVINCIBLE X 76-86
THE TALES OF LILLY 88-89
LILLY'S ON THE LOOKOUT 92-94
READER'S RIDES 96-97
COMMERCIAL VEHICLE SHOW 98-104
DIRECTORIES 105-107
BACK ISSUES 108-109
Copyright Information
Important information
Whilst every effort is made to ensure that the contents of The Mud Life magazine are accurate, we accept no responsibility for errors or omissions, nor the consequence of actions made as a result of these. When responding to any advertisements in The Mud Life magazine, you should make appropriate enquiries before sending money or entering into a contract. The publishers and owners take reasonable care to ensure advertiser's probity, but will not be liable for any losses incurred as a result of responding to adverts.
Copyright
All images and material on these pages are protected by copyright © Damian Turner. All rights reserved. None of the images or material within this magazine may be reproduced, duplicated, copied, sold, resold or otherwise exploited for any commercial purpose that is not expressly authorised by Damian Turner or Karen Lee Turner.
About Author